Millions of Americans have sent intimate pictures of themselves to others through text messages, Instant Messenger, and email. This practice has become so common that the term sexting has entered the public lexicon. According to a report in the New York Post, almost 40% of the members of Generation Z between the ages of 18 and 22 reported that they have sent intimate pictures of themselves to others. Among millennials, 37% of people between the ages of 23 to 38 also reported that they had sent intimate photos of themselves to others. The practice is less popular with older adults.
Among members of Generation X, 25% admitted to sexting. Only 11% of baby boomers reported that they had engaged in sexting. While sexting is a popular practice among adults, a large percentage of minors also report that they have received sexually explicit images from others on their smartphones and other devices.
According to a study that was reported by the Washington Post, 18.5% of minors between the ages of 12 and 17 reported that they have received sexually explicit photos and images. When minors send and receive sexually explicit photos in Arizona, they can be adjudicated for a crime under A.R.S. § 8-309.
Whether sexting is a crime for adults in Arizona will depend on the facts and circumstances of what occurred. In some cases, the act of sexting may be linked to other offenses and become criminal. In general, however, sexting between two adults who consent will not be a crime in Arizona. By contrast, if one of the parties did not consent to sext, the person who sent the images may be charged with harassment. Harassment might be charged if a person sends explicit messages and pictures to someone when they are unwelcome or who demands that another person sends nude pictures to him or her.
---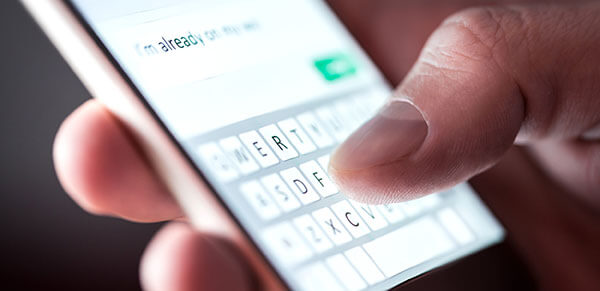 How is Sexting Defined?
The word "sexting" simply refers to sending sexually explicit images or messages to someone else using your cell phone. It is not limited to cell phones, however. Sexting can be completed by email, Instant Messenger, social media, and online chat rooms. The term was coined by combining the words text and sex. It is common for married couples engage in sexting as a normal and exciting way to spice up their relationships. When people begin dating and have a strong attraction to each other, they might also engage in sexting with each other. These forms of sexting are not illegal since both of the parties are consenting adults.
Sexting can also be criminal in other contexts. When minors engage in sexting or receive sexually explicit images from others, it is a criminal offense no matter the circumstances. Some examples of when sexting is illegal include the following:
Minors sending and receiving sexually explicit photos of themselves to other minors
Minors sending sexually explicit pictures of themselves to adults
Minors sending sexually explicit pictures of other minors to adults
Adults sending sexually explicit photos and messages to minors
Adults sending sexually explicit pictures and messages that are unwelcome to other adults
Using sexually explicit photos received via text to blackmail or extort someone else
It may be difficult to determine the criminality of sexting because it can blur the lines into other criminal acts.
---
Sexting as a Crime in Arizona
Arizona makes any sexually explicit communications with minors a criminal offense. The state's sexting laws are primarily geared toward protecting minors. The law against teen sexting prohibits people who are younger than 18 from sending, viewing, or receiving sexually explicit material of other minors using tablets, smartphones, computers, and other devices. Here are some scenarios where sexting laws can apply:
If both of the parties who engage in sexting are minors and send images of themselves to each other. Although a petty offense, it carries a fine.
If one of the parties sends the material to more than one person, it is a class 3 misdemeanor.
If a juvenile has previously been adjudicated for sexting, the second offense is a class 2 misdemeanor.
If a minor receives an unsolicited sexually explicit picture from another minor and promptly deletes it or reports it, he or she will not be penalized and will not be considered to have violated the law.
If an adult exchanges sexually explicit material with a minor, the adult will be charged with a felony offense and face penalties such as incarceration, stiff fines, and sex offender registration for up to the rest of his or her life.
---
When Sexting Becomes Sexual Exploitation of a Minor / Child Pornography
Child pornography is criminalized as sexual exploitation of a minor in Arizona. Any adult who exchanges sexually explicit pictures and videos with a minor can be charged with sexual exploitation of a minor under A.R.S. § 13-3553. An increasing number of states are enacting harsh penalties for sexting involving a minor because of the potential for exchanging and possessing child pornography.
Possession of child pornography can also be charged when a young couple is in a sexual relationship and exchanges sexually explicit photographs. For example, if a 22-year-old is in a sexual relationship with a 17-year-old, the 22-year-old can be charged with sexual exploitation of a minor if he or she received or sent the sexually explicit material depicting the minor engaged in sexual activity. The 22-year-old in this example could also face other charges such as child endangerment.
Watch this video of David Cantor explaining what Sexual Exploitation means:
---
The Relationship Between Sexting, Sexual Exploitation, and Sexual Extortion
To understand how sexting can blur into sexual exploitation and sexual extortion, it is important for you to understand what each of these terms means. Sexual exploitation is sometimes combined to form the word sexploitation and is a term that used to be used to describe a specific type of film. Within the context of sexting, the term has a secondary meaning. Sexting can make you vulnerable to becoming a victim of sexual exploitation. If you are a minor who is sent sexually explicit material by an adult, the adult could be charged with sexual exploitation of a minor. Sexual exploitation of a minor is a class 2 felony. If the minor is younger than age 14, it is also a dangerous crime against a child and carries enhanced penalties.
Sexual extortion is another crime that can occur with sexting. Like sexual exploitation, sexual extortion is often merged to form a single term called sextortion. This crime occurs when someone blackmails another person by using sexually explicit pictures of that person to obtain money or sexual favors.
In some cases, sexting, sexual exploitation, and sexual extortion can all occur. When someone sends a sexually explicit picture of himself or herself to another person, that person might mishandle the material or share it without authorization. Even if both parties are adults, there can still be criminal penalties for sexting, depending on what occurs. A common example of when sexting can become criminal occurs when someone posts explicit pictures of a former romantic partner on social media sites without the former partner's consent or permission to exact revenge on him or her.
It can also be a crime when someone obtains a sexually explicit picture and demands money from that person in exchange for not distributing it over the internet. This frequently happens with celebrities who have their private pictures stolen by hackers who then try to extort money out of them in exchange for not posting the images that they have taken.
---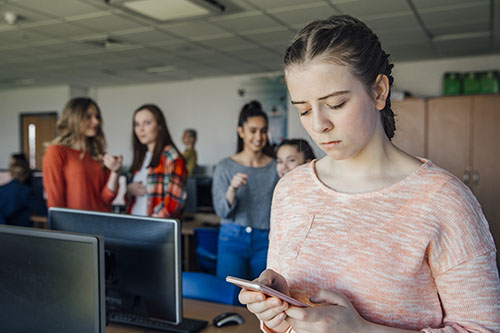 Lifelong Consequences for Those Who Engage in Sexting
Teenagers can be impulsive. As they grapple with the changes that their bodies are going through, they experience surges of hormones and new types of emotions. They may easily be convinced by their boyfriends or girlfriends to participate in sexting. Unfortunately, sexting can have consequences for teenagers beyond the potential for being adjudicated for sending or receiving sexually explicit images of themselves.
There is never a guarantee that a picture sent in private to a love interest will remain private. Some teenagers may get angry when their relationships end, and distribute explicit pictures of their former boyfriends or girlfriends to others in their schools. These images often quickly spread through the student body before they are discovered. This can lead the person who is depicted in the picture to experience intense shame and humiliation.
Teens can also lose friends when their sexually explicit photographs are distributed to others. Some people will distance themselves from the teens because they don't want to be bullied themselves. This can leave the teen in the pictures feeling alone and betrayed. The teenagers may also subsequently be objectified by members of the opposite sex and be placed at a higher risk of being victimized in the future.
All of these reasons are why sexting between minors and between minors and adults are illegal in Arizona. It is important for parents to have honest and open conversations with their teenagers about the dangers of sexting and why they should avoid engaging in it.
---
Is Sexting Considered and Punishable as a Sex Crime?
Sexting between minors in Arizona is a crime that can be charged as a petty offense or a Class 3 misdemeanor. Consenting adults who "sext" each other do not commit crimes. However, it can become a crime if one of the parties does not consent to the act. When this occurs, the person who sent the unwanted material can be charged with harassment. If an adult tries to use a sexually explicit photo to extort something of value from the person who is depicted, it is also illegal extortion. Obscenity charges can also apply in some cases.
If an adult exchanges sexually explicit material with a minor, the act of sexting can be charged as the offense of sexual exploitation of a minor. This is a sex offense that can lead to years in prison and the potential for lifelong sex offender registration.
---
Seek Legal Help Immediately
If you have been charged with sexting, harassment, sexual extortion, or sexual exploitation of a minor, you need to talk to an experienced sex crimes defense lawyer as soon as possible. These types of charges can have life-altering consequences that can last for the rest of your life. David Michael Cantor is Board Certified as a Sex Crimes Specialist through the Arizona Board of Legal Specialization and has successfully defended many people who have been accused of crimes related to sexting.
Call us at 602-691-5907 today to schedule a free and confidential consultation.
---
[ratemypost]